Every time i walk into a restaurant with a lobster tank i feel the need to apologize to them. And needless to say, the B 52's song Rock Lobster plays in my head along with the infamous words of Phoebe Buffay,

"He's her lobster!"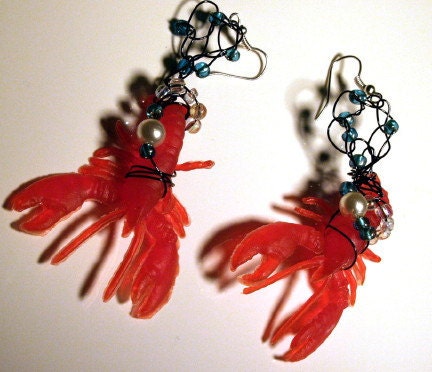 Phoebe: Hang in there. It's gonna happen!
Ross: Okay, now, how do you know that?
Phoebe: Because she's your lobster!
[At a loss, Ross looks at Chandler.]
Chandler: Oh, she's going somewhere.
Phoebe: Come on, you guys, it's a known fact that lobsters fall in love and mate for life. You know what, you can actually see old lobster couples walking around their tank, you know, holding claws…
Click here to watch this YouTube with Phoebe Buffay explaining why lobsters are soul mates.

Using recycled red plastic toy lobsters, non-tarnish black and vibrant pink wire, glass beads, teal fresh water pearls, faux pearls and the B52s singing in my head these pieces were created.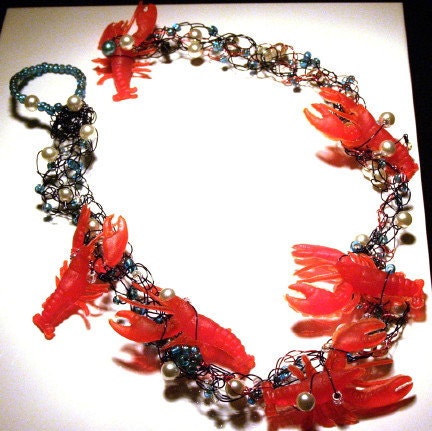 Want to hear the B 52s sing Rock Lobster?
See more crocheted wire jewelry on the Planet Calamari Etsy Shop