Maybe i watched the movie What the Bleep Down the Rabbit Hole way too many times! This Etsy forum is not the place to even attempt to explain Quantum physics. I suggest renting the movie. (And if you do please ignore the scary crazy Ramtha lady.)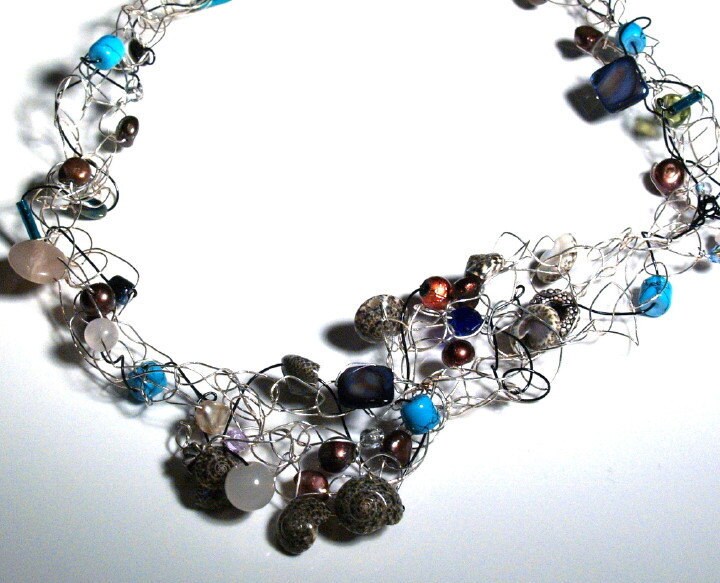 This necklace was created several times. You can almost say it has reincarnated. It began by crocheting silver plated wire with sea shells, bronze freshwater pearls, semi-precious rose quartz star beads and aurora borealis glass seed beads.
A year later after finding this piece in storage i added more black and silver colored non-tarnish copper wire and weaved other recycled beads such as faux turquoise, vintage silver beads, semi-precious rose quartz round beads, blue sea shell beads, vibrant blue glass bugle beads, a moonstone and freshwater pearl.
This neck wire sculpture has an organic feel. The effect is as if the ocean current has splashed up on the beach and it's individual parts are reunited. A one of a kind piece for your favorite mermaid, mad scientist or bohemian beach babe.
Lightweight and measures about 18 inches long. Closes with a toggle silver plated clasp.
Ready to ship in a gift bag. I use USPS priority mail with insurance and delivery confirmation.
Made with love and magic in the Planet Calamari Studio. Watch the Youtube below for more info on Quantum Entanglement
Watch the Youtube
Quantum Entanglement - The Weirdness Of Quantum Mechanics


See more one of a kind art to wear at the
< ahref="http://www.etsy.com/shop/PlanetCalamari
">Planet Calamari Etsy shop