I created this piece during the week of the full moon. Inspired by how brightly its beams reflected against the dark blue black sky and twinkled in the distance. Images of the mystical Isle of Avalon and the women who danced under the light of the silvery moon. This is for all who would love to live in a fairy tale even if it is only in our dreams.
Using non-tarnish deep black copper wire i crocheted several strands adding stunning glass seed beads with an aurora borealis effect. These beads catch the light and appear to be lit by moon beams against the black wire. The strands were then sewn together with more black wire, glass faceted beads and seed bead to keep its shape and give it support.
This neck sculpture is about 18 inches long and closes with a strong silver plated magnetic clasp which makes putting it on by yourself easy! Slide the magnetic clasp when taking off. Do NOT pull on it! PLEASE NOTE that anyone who wears a pace maker should NOT be wearing anything with a magnetic clasp! To see more about this art to wear sculpture please
Click Here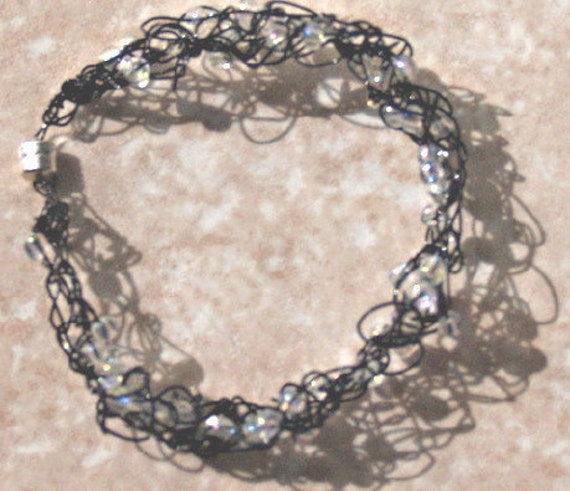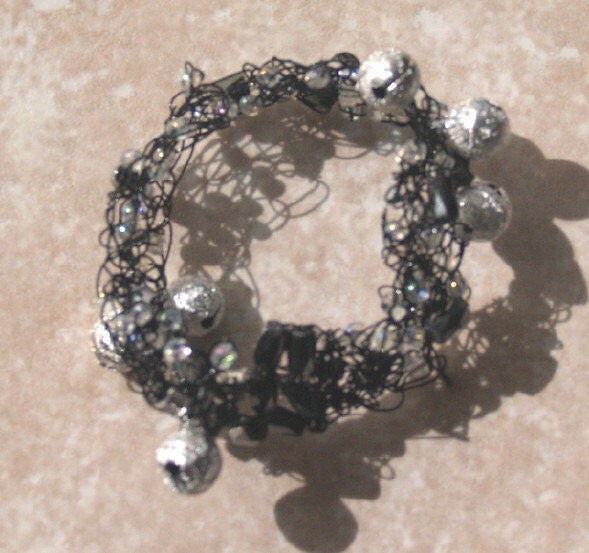 And once again.. what would Abby Sciuto of NCIS wear to the Planet Calamari Prom?
This fun Tim Burton inspired black crocheted wire bracelet with silver bells and lots of glass beads!
Click here while having a cup of Caf-Pow!