The hope of spring is in the air. Our snow is finally melting and it has been a balmy 45 degrees here in New England these past few days. After a long cold snowy winter it feels like a heat wave. Small buds are on the trees waiting to bloom. Birds, squirrels and skunks have been partying in our back yard.
Meanwhile this fragile planet is falling apart with earthquakes, tsunamis, volcanos erupting, fires, floods, revolutions and confusion... but there is a tiny glimmer of hope that things just may be OK.
This Saturday, March 19th on the feast of St Joseph the swallows will return to the
San Juan Capistrano Mission
after spending the winter in Goya Argentina. The Mission holds a celebration every year beginning with the ringing of the bells to welcome the birds home.
You can watch the ringing of the bells on this youtube
Click here
My favorite legend about the swallows is told by Father St John O'Sullivan:
"In his book Capistrano Nights, Father St. John O'Sullivan, Pastor of Mission San Juan Capistrano from 1910-33, tells how the swallows first came to call the Mission home. One day, while walking through town, Father O'Sullivan saw a shopkeeper, broomstick in hand. He was knocking down the cone-shaped mud swallow nests under the eaves of his shop. The birds were darting back and forth, shreiking over the destruction of their homes.

"What in the world are you doing?" O'Sullivan asked.

"Why, these dirty birds are a nuisance and I am getting rid of them!" the shopkeeper responded.

"But where can they go?"

"I don't know and I don't care," he replied, slashing away with his pole. "But they've no business here, destroying my property."

O'Sullivan then said, "Come on swallows, I'll give you shelter. Come to the Mission. There's room enough there for all."

The very next morning, Father O'Sullivan discovered the swallows busy building their nests outside Father Junipero Serra's Church. " click here to read more

The swallows leave the mission every year around the feast of San Juan on October 23.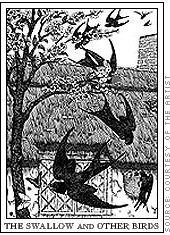 When the swallows come back to Capistrano
That's the day you promised to come back to me
When you whispered, "Farewell," in Capistrano
'twas the day the swallows flew out to sea

—excerpt from "When the Swallows Come Back to Capistrano" by Leon René



It is said that the swallow is a symbol of hope, fertility and renewal of life. Known as the symbol of Venus, the Goddess of Love, the Roman's believed it was extremely unlucky to harm a sparrow.

.

In honor of the brave little sparrows who announce the arrival of spring the Planet Calamari Etsy shop will be offering free shipping on all purchases starting March 19th through March 21st.

http://www.etsy.com/shop/PlanetCalamari

Use the Code: REBIRTH11 when checking out.