One of my favorite characters in the Lord of the Ring trilogy books and movies is the Elf Queen Galadriel. Beautiful, strong and also known as the Lady of Light. Galadriel is described as having been "blessed with the ability to peer into the minds of others and she judged them so fairly.Tolkien refers to Galadriel as "the mightiest and fairest of all the Elves that remained in Middle-earth"and the "greatest of elven women" This piece was inspired by her.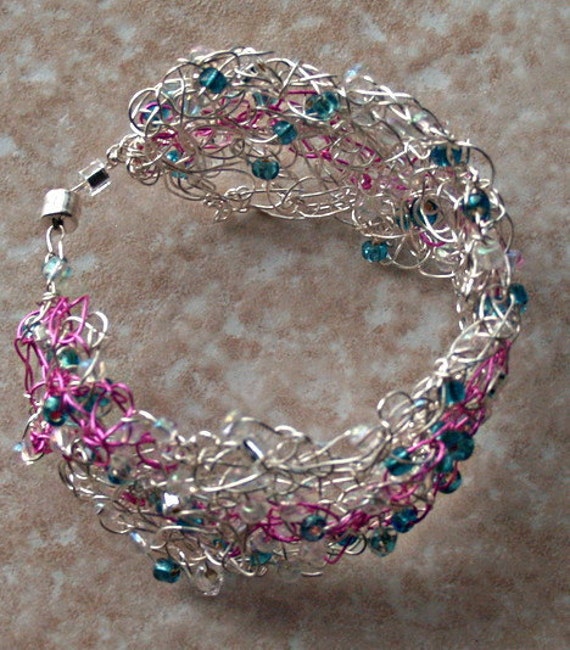 This one of a kind wrist cuff was created by crocheting non-tarnish copper wire strands in hues of vibrant pink and silver. After the wire was crocheted it was sewn together with more wire and beads to make it stable and to add a more sculptured effect. Faceted clear glass beads are intertwined along with glass sea blue and aurora borealis glass seed beads creating brilliant reflections of light.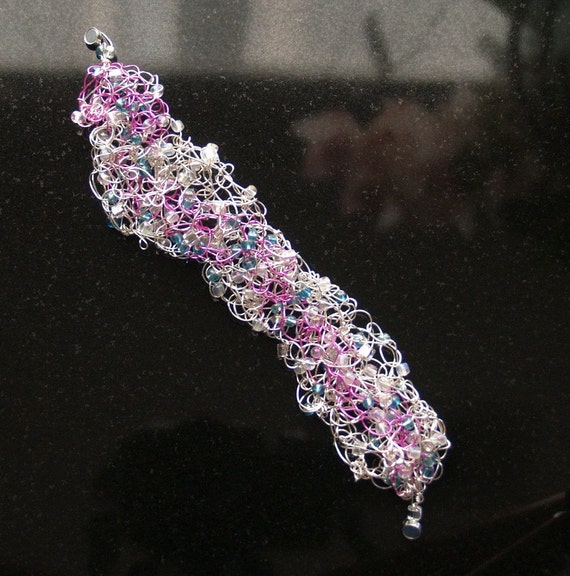 You can wear this wrist sculpture with any outfit to create a dazzling effect. Dress prom dress, a gown for an elegant event or any magical evening.
Lightweight. Measures about 8 inches long. This piece is sturdy and sits on the wrist like a bangle. Can be made smaller by 'scrunching" the wire delicately.
Closes with a magnetic clasp to make putting it on by yourself easy! Slide the magnetic clasp when taking off. Do NOT pull on it!
PLEASE NOTE that anyone who wears a pace maker should NOT be wearing anything with a magnetic clasp!
Made with love and magic in the Planet Calamari Studio.
See more art to wear and other crocheted wire jewelry at the Planet Calamari Etsy shop
Click here!