I grew up going to Oriole baseball games in the good old days when Brooks Robinson, Boog Powell, and Frank Robinson were heros. The 7th inning stretch had the crowd singing and dancing to John Denver's "Thank God I'm a Country Boy" (click on the bold typeface to sing along!)
Wild Bill Hagy led the famous O-R-I-O-L-E-S chants in section 34 at Memorial Stadium. A Dundalk Cab driver who lived in the same apartment complex as me... Oh...those were the days,
Hon!
!
This one of a kind pendant was created with non-tarnish midnight black wire weaved into a Orioles bird nest. Eggs of stunning orange with an iridescent aurora borealis finish glass beads are nestled inside. The photos do not show the brilliance of the orange beads.
This delicate nest is about an inch diameter. It comes with a gorgeous midnight black organza ribbon chain 16-18 inches long which can be adjusted to the length you desire. Or Grab a Natty Boh and put on your favorite chain or silk cord. Please note hon, that every nest is unique and handmade.
Made with love and magic in my Planet Calamari Studio.
See more art to wear and other bird nests and Baltimore Ravens nest at the Planet Calamari Etsy shop
http://www.etsy.com/shop/PlanetCalamari"> planetcalamari.com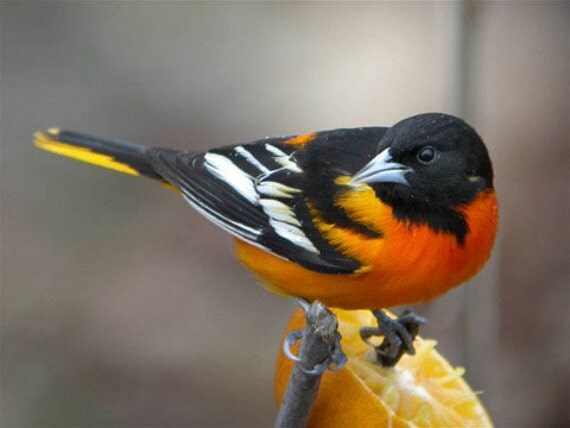 Baltimore Oriole